---
---
Download the latest version for evaluation here! (0.9 MB)


Virtual Circuits is program ideal for introductory circuit analysis.



Latest Update:

V 1.13
Includes an extensive list of predefined circuits
Create a series of circuits that can be saved in one file. (Ideal for showing how circuits can be reduced to one resistance)
Features include:
Easy to create parallel and series circuits.
Realistic voltmeter and ammeter
If the ammeter hooked up wrong, the fuse is "blown".
Circuits created can be easily saved, with instructions for its use.
3 different bulbs can be used in the circuits.
Brightness of bulb can be determined by counting the number of "rays" leaving the bulb.
Resistors and switches can also be used in ths circuit.
Batteries in series and parallel can be used or a variable power supply
Ideal to
Create graphics for tests.
Compare data used from using real lab equipment.
Quickly answer "What if..." questions on changes to electric circuits.
Show the technique on how to properly use meters.
---
The Virtual Circuits Program is $25 (U.S.). The program can be used at home by the students enrolled at the school the software is liscensed to.

For a single school
To order the program for your school and receive the registration codes and individual program immediately upon registration, click Here.

For a district/board or multiple schools
If you would like to buy a license for multiple schools contact me at "info (at) jabe.com". I will configure the program into one file and include your district/board logo for easy use at all the schools you register for. No registration codes will be required to run the file.

---
| | | | |
| --- | --- | --- | --- |
| Main Screen | Ammeter Use | Voltmeter Use | Battery Change |
| | | | |
---
Be sure to check out
For videos on how the software can be used.
Add Loads
See how to close switches
and add bulbs/resistors


(warning: 1.44 MB)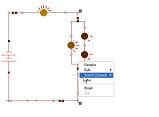 ---
Updated:Feb 2013